Gang assaulting wounded soldier Pham Van Hien has been prosecuted into custody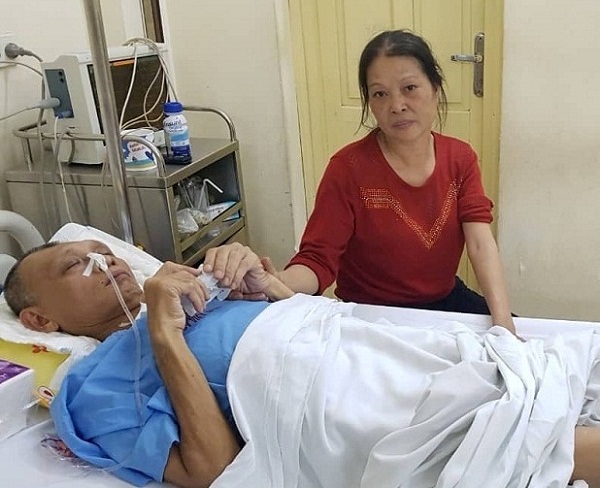 10.000
7.888 have signed. Let's get to 10.000
This petition sends to: Chairman of People's Council, People's Committee of Thanh Hoa Province, Director of Police, People's Procuracy, National Assembly Delegation, Veterans Association, People's Council and People's Committee of Tho Xuan District, Head of District Police, District People's Procuracy, District Veterans Association
Bi Midori
7888 Signed
UPDATE : VICTORY: On April 20, 2019, Tho Xuan district police prosecuted and detained 3 people who assaulted and wounded Pham Van Hien. Link details: Arresting 3 people who brutally assaulted and wounded soldiers in Thanh Hoa
UPDATE: April 18, 2019 Deputy Director of Thanh Hoa Police Department said about the wounded, beaten and bedridden in a 24-hour newspaper Link details: Deputy Director of Thanh Hoa Police Department spoke about wounded and bedridden soldiers .
UPDATE: 06/04/2019 There have been inspection results of Tho Xuan District Police Investigation Agency. The injury rate of Mr. Pham Van Hien at the time of assessment is: 80% - may have to live with plants for the rest of his life.
There have been 7,280 people signed, let us continue to speak up to reclaim the fair for wounded Pham Van Hien.
SOCIALIST REPUBLIC OF VIETNAM
Stand- up - Freedom - report
PETITION AND EMERGENCY

REQUIREMENT
For: " Prosecuting 4 thugs to beat wounded soldier Pham Van Hien with traumatic brain injury"
To : - MR. TRINH VAN CHIEN, PRESIDENT OF PEOPLE'S COMMITTEE OF THANH HOA - MR NGUYEN DINH XƯNG, PRESIDENT OF PEOPLE'S COMMITTEE - Mr. NGUYEN HAI TRUNG , PROVINCIAL SECURITY DIRECTOR OF THE PROVINCE - MR. DO VAN PHUONG, CHAIR OF THE PEOPLE'S COMMITTEE - DIRECTOR OF LABOR DEPARTMENT OF SOCIAL AFFAIRS - CHAIRMAN OF THE NATIONAL ASSEMBLY - PRESIDENT CHAIRMAN OF THE WAR VETERANS OF VIETNAM - CHAIRMAN OF WAR VETERANS PROVINCE - CHAIRMAN OF THE PEOPLE - CHAIRMAN OF THE PEOPLE'S COMMITTEE OF THO XUAN - KSND DISTRICT HOSPITAL DIRECTOR - CHIEF POLICE DISTRICT - CHAIRMAN OF VETERANS DISTRICT
We citizens to sign the application below is recommended for the agency as follows: On October 27 in Trung Thanh village, Xuan Hoa commune, Tho Xuan, Mr. Pham Van Hien, 60 years old (wounded soldier of 3/4 rank), was seriously beaten and beaten by 4 people in the same village. On November 2, Ms. Hien's wife, Mr. Hien, sent an application to the Police Investigation Agency of Tho Xuan District to denounce a crime about her husband being severely beaten. Since the incident up to now, more than 2 months have passed but investigating agencies have not yet instituted the case, 4 subjects beating Mr. Hien are still living out of law. A wounded soldier sacrificed his blood to protect his country and was enjoying the regime, only because of a small conflict in his life suddenly abused by four thugs to organize assault. More than 2 months after the incident, while the victim is at risk of having to live in a plant, the CQDT has not yet instituted the case, The suspect is still "out of the law" making the victim's family extremely urgent and confused. Through discussion with lawyers, we found that "according to Article 8 of the Law on Organization of Criminal Investigation Agencies, this case has sufficient factors to institute the case, showing signs of prolonged or covering criminals. In this case, the CQĐT should directly contact the victim and family members to collect files, evidence ... to check and verify as a basis for prosecuting the case in accordance with the provisions. If a person has used dangerous weapons to beat a victim, there are enough factors to prosecute the case regardless of the results of injury assessment ". The details of the case are clear, information about the objects of organizing the beating of Mr. Hien has also been identified. So, as a rule, The CQĐT issues a decision to prosecute a criminal case within 20 days from the date of receiving a criminal report (currently more than 60 days old) "According to Article 206 of the Criminal Procedure Code, the CQĐT must issue a decision to solicit a private examination. legal measures to identify criminals and draw conclusions, rather than waiting for the involved parties or their representatives to have applications to issue decisions to solicit expertise. " Therefore, we make this Application, we hope that the agencies consider and accept the denunciations of criminals and call for help of the wounded family of Pham Van Hien. We believe that the wicked who disregard the law must be punished and compensate for the loss of health and morale for the wounded soldiers who shed blood and protect the country. That will help bring peace, no more panic and help strengthen people's confidence in justice and law.
Hanoi, January 2, 2019 Pham Thi Phuong
=========================== ===============================================
Journalist of life & law - Reporters - agencies of Vietnam Lawyers' Association contacted the police of Tho Xuan district to find out and VERIFY the case information (article as attached link).
---
Source: https://www.nguoiduatin.vn/4-doi-tuong-danh-1-thuong-binh-chan-thuong-so-nao-roi-bo-lai-giua-duong-a415363.html?fbclid= IwAR1o8wT ---- NtaxpB6veuAGvf31ZEhHE8hln8N7dltXxx9zqe3CyBQvEYO0azs